Crispy Cheddar Crisps | Keto Cheese Chips & Cracker Substitute
One snack that I loved before I embarked on my Keto diet was Cheez-Its. I adored the cheesy flavor, the crunchiness, and the delicious browned edges. It wasn't uncommon for me to polish of an entire box of them in one sitting, either.
Now when I buck heads with my Cheez-It craving, I just whip up a batch of my Crispy Cheddar Crisps. This is just a fancier name for Keto cheese crisps, but I promise you won't be disappointed. They are completely satisfying, simple to make, and very low carb. In fact, I may even like them better than the real thing!
How can I use the Crispy Cheddar Crisps?
This recipe is extremely versatile and can be used for many different purposes including:
a vehicle to scoop up your favorite Keto-friendly dips and salsas
as a mock "tortilla" shell for tacos
adding a wonderful crunch to your soup or salad
a garnish for your dishes
---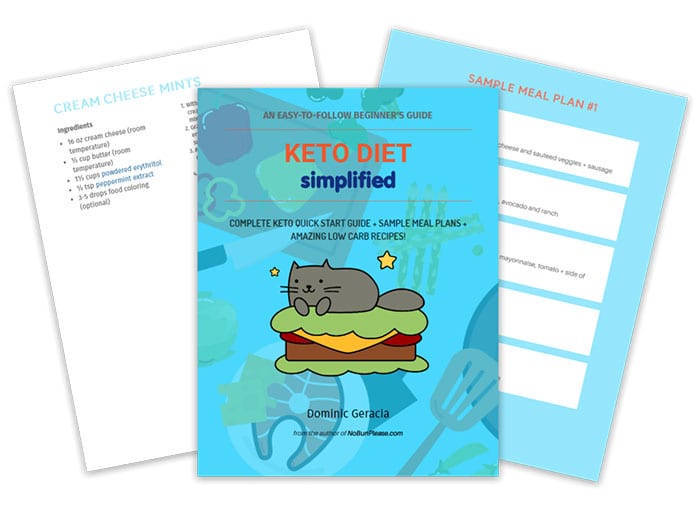 Want a printable version of ALL recipes from No Bun Please?
No ads + Lifetime Updates
for just $9.99!
I'll even include my Keto Simplified Guide (exactly how I follow Keto) + Sample Meal Plans as well!
⇒ ⇒ Get it here ⇐ ⇐
---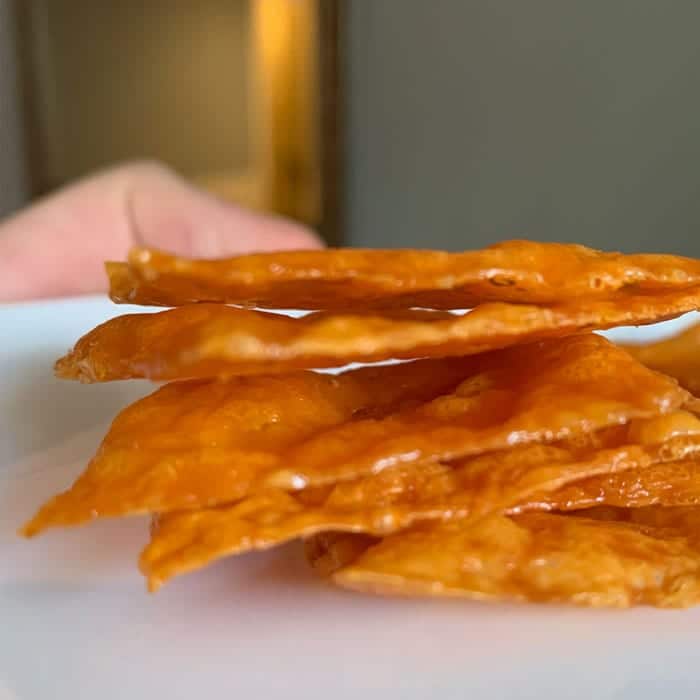 Cheese Chips Variations
Something unique about this recipe is that you can use different styles of cheese to create slight variations.
For a flat, square crisp, I highly recommend using slim slices of deli cheese. Regular slices will also work (and may take a little longer), but the crunch is out of this world. You can even poke a hole in the center using a straw to complete the Cheez-It fantasy.
For a round, lacy crisp, use shredded cheese and just place them into small piles.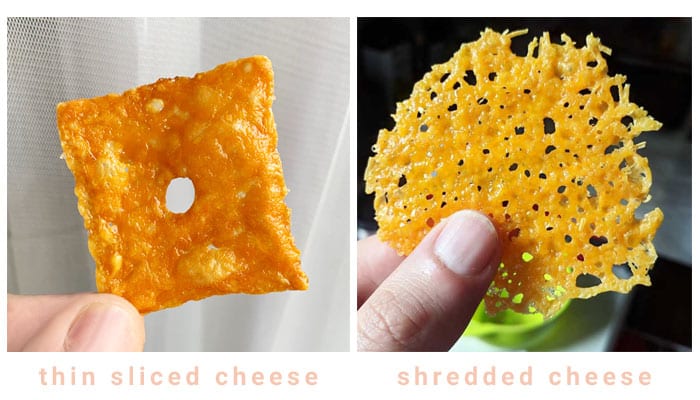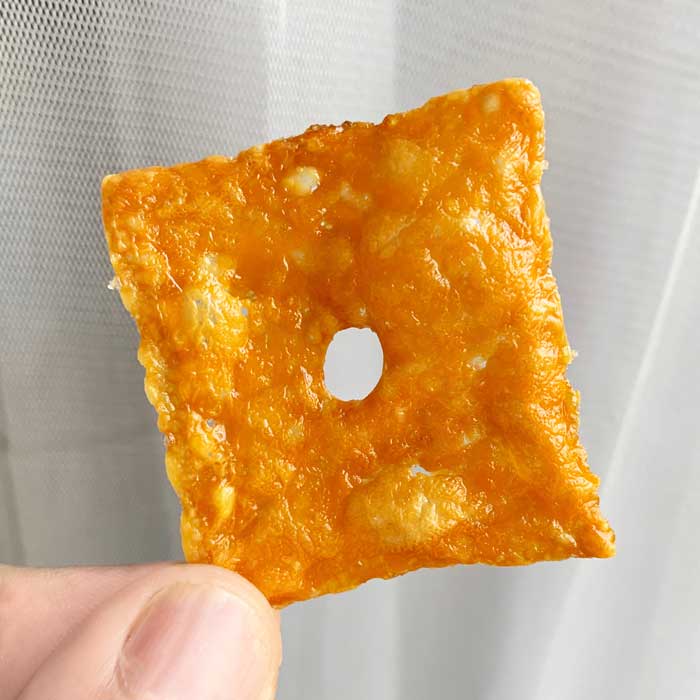 My Crispy Cheddar Crisps are the perfect Keto-friendly alternative to chips or crackers!
Course:

Snack
Cuisine:

American
Servings: 1 serving
Calories: 120 kcal
4




tablespoons




Cheddar cheese

salt (to taste)
On a cookie sheet lined with parchment paper, drop a tablespoon of shredded cheddar cheese into four separate piles. Make sure they have at least 2 inches space between them.

Bake in oven for roughly 30-40 minutes. You want to to look for a golden brown color around the edges.

Pull out of oven and let cool for 10-15 minutes.
If you're lucky enough, you may find a cheddar cheese that is 0g carbs!
Nutrition Facts
Crispy Cheddar Crisps
Amount Per Serving (4 crisps)
Calories 120
Calories from Fat 81
% Daily Value*
Total Fat 9g
14%
Total Carbohydrates 1g
0%
Protein 4g
8%
* Percent Daily Values are based on a 2000 calorie diet.
Tips & Tricks
Here are a few additional thoughts and ideas:
Try different cheeses — you don't have to use just Cheddar cheese! Romano and Parmesan crisps are delicious, too.
Focus on the harder/firmer cheeses. Some will not work too well, such as Mozzarella.
DO NOT bake these on foil or wax paper. They will stick. Only use parchment paper or a silicone mat on a baking sheet.
Nutrition information may vary slightly. It shouldn't be too difficult to find cheese with 0g carbs (it's not too difficult for harder cheeses).
A favorite Keto snack of mine is a Crispy Cheddar Crisp + a smear of peanut butter. This combination tastes exactly like those processed cheddar and peanut butter crackers I used to devour as a kid!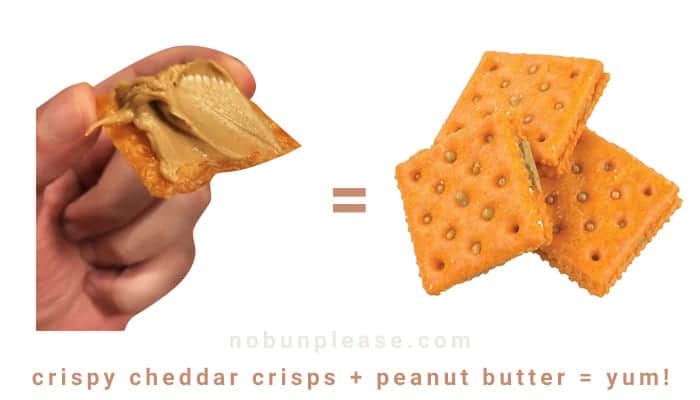 My Favorite Store-bought Cheese Crisps
Short on time but still want some Keto cheese chips? Fortunately, there are plenty of companies out there that make really good products. I like to keep these on hand for days when I don't feel like cooking or I'm away from home.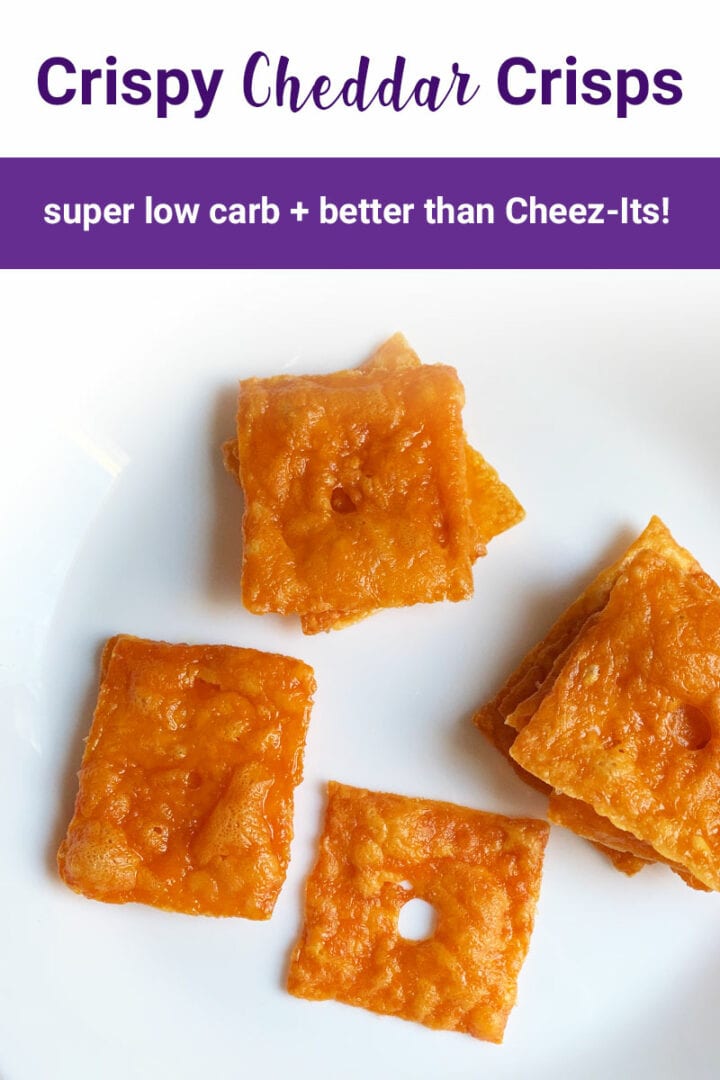 Did you enjoy my recipe for Crispy Cheddar Crisps? Comment below!